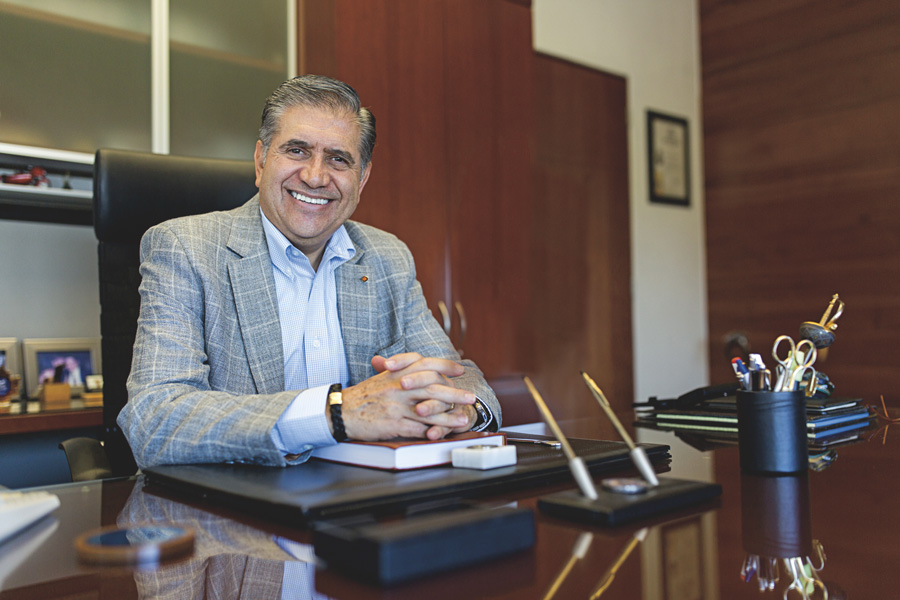 Originally from León, Guanajuato, José Luis Reyes Vázquez arrived in Vallarta · Nayarit in 2001, when he had the opportunity to participate in an examination to acquire Notaría Pública 31 in Nuevo Vallarta, which has jurisdiction from Tepic to Bahía de Banderas. A lover of nature and reading, during his 32 years as a corporate lawyer he held various public service positions and has participated in national politics as an advisor in the development of national projects. And this year, he received an honorary doctorate from the Instituto Mexicano de Líderes en Excelencia (Mexican Institute of Leaders in Excellence).
At 24, recently graduated from Universidad Iberoamericana Plantel León, Reyes Vázquez met Vicente Fox, who at that time was looking for a lawyer to advise him on corporate matters. Since then, in addition to being a friend, he has been Fox's legal representative through each of his stages as a public servant, from his beginnings as a representative to being president of Mexico.
"I have always liked to maintain a low profile. I prefer to be a citizen who permanently contributes ideas on public and social projects. For that reason, I was recently invited by López Obrador to participate as an advisor on his project, and if, like him, another candidate of any other party approaches me, I am at his complete disposal, to contribute for the benefit of Mexico," he explains.
For someone from the Bajío, one of the country's most important economic regions, Vallarta · Nayarit represents one of the best options for developing real estate: "For some years, there has been a great interest in coming to invest in our destination. The greatest purchasing power in the country is distributed in the Bajío region, the Guadalajara area and states such as Michoacán, Sinaloa, Coahuila, Durango, Nuevo León, Querétaro and Aguascalientes. Due to the bay's geographical location and connectivity, they are the main clients that intend to buy a vacation place. In addition, due to the favorable conditions for business, it is increasingly common to see new corporations and developers coming from those areas."
"And regarding this boom, we all benefit. Developers are producing their projects and sales are being finalized. And obviously, these transactions take place with the notary. It is a virtuous circle, and it is beneficial for all that investors and developers have confidence in this area."
With the federal election coming up in 2018 and considering his political experience, Reyes Vázquez said, "It is still an uncertainty, but the coming year will be very interesting. Depending on who is elected and the economic projects that arise, we will see how they impact the development not only of our region, but of the entire country."
And what does Vallarta · Nayarit need to do to stay at the forefront of investors' minds? "For the time being, public services, infrastructure and the quality of attention given to citizens by the authorities need to be strengthened. For this, it is crucial that the conurbation between Puerto Vallarta and Bahía de Banderas be consolidated; otherwise, we will continue to have two municipalities with divided efforts. This union is vital, so we finally share a common goal and the resources of both to strengthen a regional project as a single destination. In the end, all this will benefit investors, visitors and all those who wish to grow economically here."
"The conurbation of Puerto Vallarta and Bahía de Banderas is essential to strengthen a regional project as a single destination. This will result in benefits for investors, visitors and all those who want to grow economically here."
Notaría 31 and ISO 9000 Certification
"For me, the notary has always been the most solid legal institution. It is the universe of legal consolidation in a safe and transparent manner. That was the main reason I chose this area for my profession," he recalls. "In order to be a notary, I had to participate in an examination, sponsored by the Colegio de Notarios and the Dirección del Notariado de Nayarit. Once the legal requirements were satisfied, the then governor of Nayarit, Antonio Chavarría Domínguez, granted me the notarial fiat, which gives me the authorization and public faith to practice. Over the years, we started working on ISO 9000 Certification carried out by the Global Certification Bureau, and, since 2010 we have gotten it each year. It should be noted that the auditing process is quite stringent, as they carefully monitor our quality of customer service, facilities, internal processes and other aspects. We have obtained this certification in both Spanish and English."
Before concluding our talk, Reyes Vázquez urged building a better Mexico through hard work: "To change, we need to roll up our sleeves, do our job well, be good citizens, participate, fulfill our obligations and be professional, transparent and ethical in each of the tasks we perform. We must be perpetual promoters of peace and social justice."